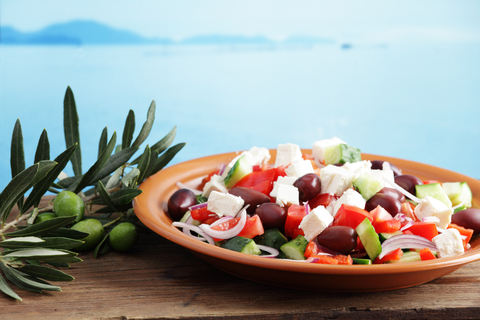 Ingredients:
3 medium size tomatoes (preferebly organic)
1 medium size onion
1 cucumber (preferebly organic)
10 Greek olives (preferebly Agriniou type or Kalamon type)
1 tsp of dried Greek oregano
100 – 150 gr of Greek Feta cheese
5 tbs of Greek extra virgin olive oil
Salt to taste
Instructions:
In a bowl cut the tomatoes in small pieces
Slice the cucumber and add it in
Add the onion sliced and the Greek olives
Place the Greek feta cheese and pour the Greek extra virgin olive oil
Sprinkle on top the Greek dried oregano and add salt to taste
Serving tips:
1. Add sliced green or red peppers
2. Add crushed letuce
3. Sprinkle with persley
4. A tablespoon of vinegar can spice up the salad
Καλή όρεξη (kali orexi) - enjoy !!!!