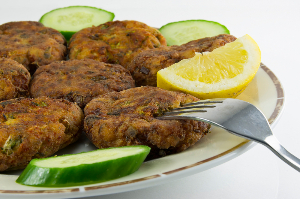 Ingredients (for 30 "kolokythokeftedes" approx):
4 zucchinies (250 gr each approx)
1 large onion minced
3/4 green spring onions finely chopped
1 cup of chopped parsley
1 cup of chopped mint
1 cup of chopped dill
2 large eggs
250 gr of Greek Feta cheese crushed or cut in very small dices
4/5 tablespoons of selfrising flour
Instructions:
We wash the zucchinies very well
Using a kitchen grater we grate the zucchinies into a strainer.
Sprinkle some salt and let them rest for 15minutes.
We squeeze the excess water from the zucchinies and put them in a bowl.
Add all ingredients in and mix well with a spoon
Becarefull with the salt as Feta is a salty cheese
Slowly we add the flour in till the mixture becomes like a thick porridge
Heat the the olive oil in a frying pan at a medium to high temperature
With a spoon take 4-5 spoonfull of the mixture and pour it in the hot oil
(a spoonfull for each "kolokythokefte" do not put too many in the pan as they will not fry but boil instead)
Fry the kolokythokeftedes (zucchinieballs) for 2-3 minutes at each side.
After taking them out of the pan put them on a kitchen paper to absorb exceeding oil.
Grammar tip!!!!
"kolokythokeftes" = one zucchinieball
"kolokythokeftedes" = two three or more zucchinieballs
Serving tip:
ideal as a snack before lunch with some "ouzo"
Tzatziki can be paired perfectly with kolokythokeftedes (zucchinieballs)