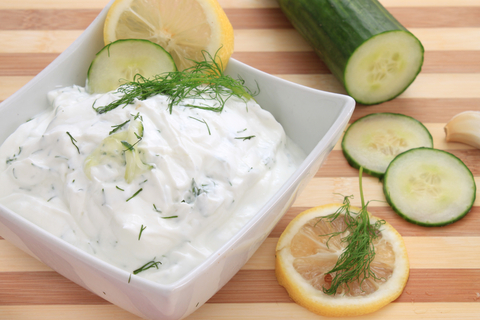 Ingredients:
500 gr of Greek strained yoguart (preferebly sheep yogurt)
1 cucumber grated and strained very very well (you can squeeze it with your hands)
5 garlic bulbs mashed
1 Tablespoon of lemon juice
2 tablespoons of extra virgin Greek olive oil
1 tablespoon of chopped dill or parsley (keep a pinch for decorative reasons)
salt to taste
Instructions:
In a bowl add all the ingredients above and mix then well
Let it rest for 30 minutes so all flavours will manage to blend in
Serving tips:
Ideal side dish for roasted meats burgers and fried potatoes
Sprinkle a pinch of dill or parsley on tip before serving together with a table spoon of Greek extra virgin olive oil.
Καλή όρεξη!!! (kali orexi) – Enjoy!!!!!