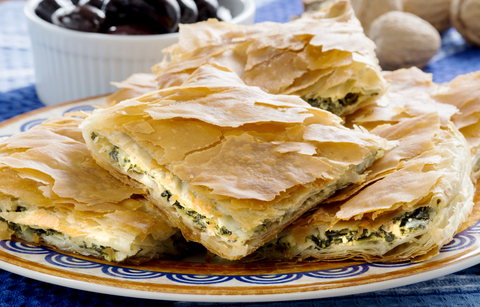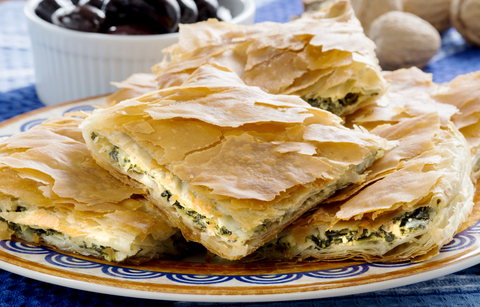 Ingredients:
1 Kg of fresh spinach (preferebly organic)
4/5 fresh spring onions (diced)
0,6 to 0,8 Kg of Greek feta cheese
1 bunch of fresh dill (chopped)
2 eggs
black pepper & salt to taste
6/7 fyllo pastry sheets
250 gr of Greek virgin olive oil
Instructions:
Put the spinach chopped together with the chopped sping onions and the dill in a big bowl.
Sprinkle some salt and start mixing and squeezing in order to loose as much moisture as possible (be carefull with salt as feta is a bit salty itself)
Add the greek feta cheese (cut is small dices or crushed), the pepper, half of the Greek virgin olive oil and the two eggs
Take a normal pan and oil all over its surface
Place two of the fyllo pastry sheets (no need to worry if they are bigger than the pan because they will be folded in). With a kitchen brush oil the surface of each fyllo pastry sheet
On top of the two fyllos sheets put half the quantity of the veggie mix and spread it evenly.
Add a fyllo pastry sheet and oil its surface (you can put two fyllos)
Put the rest of the veggie mix and cover it with the rest of the fyllo sheets (don't forget to oil the surface of each fyllo)
Fold in the parts of the fyllo sheets that exceed the pan.
Oil the surface with the brush and sprinkle some water on top (3-4 table spoons)
With a sharp knife cut the pie in even rectangular pieces
Cook it for 1h and 15minutes in a preheated oven at 170 to 180 degrees Celcious
Tips:
Chop as smaller as possible all veggies. Thus you will be able to cut the pie in better pieces
You can use instead of Greek feta cheese and combination of Feta and Anthrotyro ("flowercheese" a low calory Greek cheese similar to ricotta)
When you fold in the exceeding fyllo sheets you can add in a little of crushed feta cheese. It will be a nice surprice when you take a bite!!
Καλή όρεξη !! (kali orexi) – Enjoy!!!!