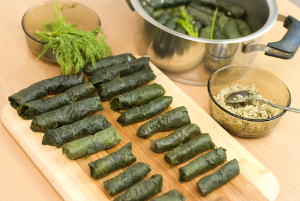 Ingredients for dolma rolls:
60 vine leaves approximatelly
250 gr of rice
2 medium sized onions minced
4/5 green onion springs chopped
1 cup of Greek virgin olive oil
1 cup of chopped parsley
1 cup of chopped dill
juice of 1 lemon
1 tomato minced
salt and pepper to taste
Ingedients for yogurt sauce:
500 gr of Greek strained yogurt
3 tablespoons of Greek extra virgin olive oil
Lemon juice of one and a half lemons
1 tablespoon of finely minced mint
1 tablespoon of finely minced dill
salt to taste
Instructions for "dolmades":
Put the rice in a bowl and fill it with wate. Let it stay for one hour.
Strain the rice and wash it in a strainer under running water to loose its exceeding starch.
Strain well
Put the rice in a bowl and add the lemonjuice and mix
Heat half of the Greek olive oil in a saucepan and saute the chopped onions and the green spring onions for 4-5 minutes on low temperature
Add the rice and continue mixing for another 5 minutes
Continue by adding 1 cups of water and let the rice simmer for 6-7 minutes (untill it absorbs all its liquids
Salt and pepper to taste and put in the parsley and the dill
Add the minced tomato in and mix well
In the meantime you we put the leaves in hot water for a few minutes and afterwards we move them in a bowl with cold water – we strain them Cut any hard stems off the leaves
Cover the bottom of a pot with 3/4 wine leaves Take one leave at a time and fill it by. The leave must be with its nerves on top. Put with a spoon a small quantity of the filling.
Fold in the side parts of the leave and start rolling it to a small bar and put it in the pot.
Have patience and continue with the rest of the leaves.
Dolma rolls must be places tightly with the rest. When the bottom level is ready make a second one on top. Depending of the filling quantity and the number of vine leaves we can make up to four levels of dolma rolls.
When finished we add the rest of the olive oil and water untill they are just covered.
Put a plate on top and cover the pot with its lip.
Let it simmer for 40-45 minutes till it absorbs the water.
Instructions for the yogurt sauce:
Mix all ingedients in a bowl and whisk them with a fork till they incorporate in become a sauce.
Serving tips:
Dolmades are served plain preferebly in room temperature as a side dish
Can also be served with yogurt sauce on top
Καλή όρεξη!!!! (kali orexi) .. Enjoy!!