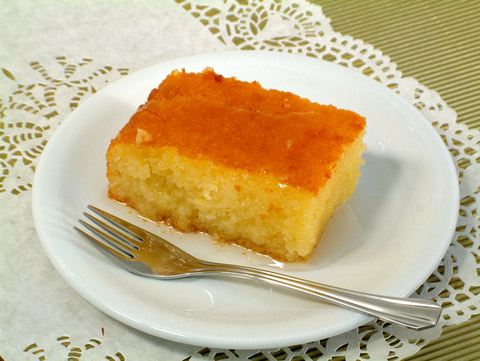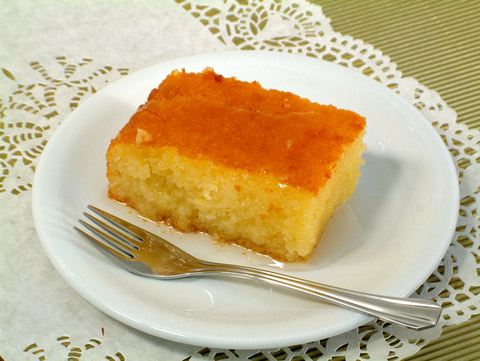 Ingredients for the cake:
Selfrising Flour 170 gr
Semolina 230 gr
Six (6) eggs (separate the yoke from the white)
Sugar 250 gr
Margarine or butter 270 gr at room temperature
Baking powder one (1) tsp
Vanillin powder 1/4 of tsp
Zest from one (1) orange
Brandy or cognac 40 gr (1 shot)
salt 1 pinch
Ingedients for the syrup:
Water 1,3 Kgr
Sugar 0,73 Kgr
Instructions for the cake:
Whip the white of the eggs with a pinch of slat very well till it becomes a white foam and put it in the fridge
Whip the butter together with the sugar with a mixer untill it becomes a white cream
Add the the yokes one by one and contunue whipping very well untill they incorporate in the mix
Add the semolina and continue whipping in a medium to low speed
Sift the selfrising flour into the mixture and continue whipping at the same speed
Add the baking powder
Add the vanillin
Add the barndy or cognac
Whip for a minute at low speed till they incorparate
Using a spatula add into the mixture the mareng from the eggwhites. Bare in mind that it has to be done with slow moves otherwise the air will go. (tip: add it in three portions)
Put the mixture into a pan with diameter approx 30cm
Bake in preheated oven at 180 degrees Celcious for 50 minutes
Pour the syroup all over the cake surface slowly using a scoop (

IMPORTANT

: Cake must be at room temperature and syroup boiling hot)
Instructions for the syrup:
Put in the sauce pan the water together with the sugar
Keep it on the fire for 10 minutes after it starts boilling
Serving options:
Ideal after a rich meal or paired with coffee or tea.
Also can be served with vanilla or masticha ice cream aside.