Mezedes (Greek easy food)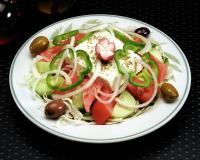 From March 17, 2015 10:00 until March 17, 2015 14:00 Save to calendar
Event repeats
CLASS TIME 10:00 - 14:00
Four-hour cookout class!!


Every participant with try her/his luck at:
prepare a traditional Greek meal with fresh and organic (where available) ingredients
It will be a selection of pies and greek traditional snacks like "tiganites" (greek pancakes) and more
prepare a side dish
traditional dessert

Lunch will follow with the prepared dishes paired with house wine and salads
Participation fee: 105,00 euros!!
Fee includes:
- All Ingredients for recipes that will be prepared
- All necessary cooking equipment is provided by CookGreek.gr
- Cookgreek.gr instructor throughout the cooking lesson who will assist and guide participants
- Meal with dishes prepared
- House wine (300 ml) per person during lunch
- Booklet of recipes that will be prepared
Gift for all participants!!
Important!!
1. Wear comfortable clothes and shoes!!!
2. Don't forget to mention in contact form any special dietary info