Ladera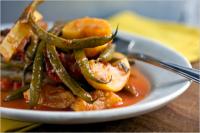 From March 28, 2015 10:00 until March 28, 2015 14:00 Save to calendar
Event repeats
CLASS TIME 10:00 - 14:00
Four-hour cookout class!!
The actual translation of "Ladera" means "oily", however in Greek cuisine is usually the vegetable that is cooked with oil and tomato sauce. A variety of vegetables can be cooked "ladera". Eggplants, zucchini, ocra, green beens, potatoes, etc.
Every participant with try her/his luck at:
prepare vegetables* for cooking (cleaning - seasoning)
prepare side dish
prepare salad
traditional dessert
(* recipes for "ladera" that we will prepare and cook may vary from other dates with the same recipe theme, because it depends on the season.
Usually we prepare recipes that are cooked in a pot, with tomato sauce, or with lemon and oregano but there are also recipes that are cooked in the oven.
Lunch will follow with the prepared dishes paired with house wine and salads
Participation fee: 105,00 euros!!
Fee includes:
- All Ingredients for recipes that will be prepared
- All necessary cooking equipment is provided by CookGreek.gr
- Cookgreek.gr instructor throughout the cooking lesson who will assist and guide participants
- Lunch with dishes prepared
- House wine (300 ml) per person during lunch
- Booklet of recipes that will be prepared
Gift for all participants!!
Important!!
1. Wear comfortable clothes and shoes!!!
2. Don't forget to mention in contact form any special dietary info